When:
September 12, 2017 @ 6:00 pm
2017-09-12T18:00:00-04:00
2017-09-12T18:15:00-04:00
Where:
Family Ark Lodge
101 Noahs Ln
Jeffersonville, IN 47130
USA

Join us on Tuesday, September 12th at 6:00 PM for a Foster Parent Informational Meeting. This session is for anyone interested in learning more about the process of becoming a licensed foster family. We welcome both families and individuals who have been thinking about fostering for years, and those who are just starting their journey and want to learn more.
We'll cover: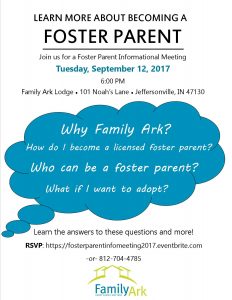 The role of a foster parent
The Family Ark Model
Who can be a foster parent
The licensing process
Common foster care myths
Frequently asked questions
Why Family Ark
Children and families are welcome to attend and we will be serving light refreshments. These sessions are simply for educational purposes with no obligation or commitment expected. However, for those who are ready to get started in the process we will have information available as well.
We are excited to share this journey with you and look forward to see you on our campus!